The best watch for €3,000!
By Georg Platzöder, 3 January 2023

Maybe you know what it's like to be looking for a wristwatch, but you don't know exactly which one it should be. Do you have a specific idea in mind, but unfortunately you can't just shake €100,000 for a Nautilus out of your sleeve either? We know how the feeling and, just like you, have set out to find what we think is the best wristwatch in our store for up to a maximum of €3,000. This price range is still quite reasonable – and has a lot to offer!




Our criteria
---
In order for the following test and the subsequent results to make sense, we'd like to first explain the criteria for our selections. This might be somewhat different in your case, but that is the nature of individuality – and perhaps you can find something within our criteria that relates to qualities you find important in a timepiece.

First of all, we are looking to buy only ONE watch. Accordingly, we are searching for a sporty, elegant all-rounder, which visually complements an austere suit, or a fancier, cozy Christmas in front of the fireplace just as well as a beach vacation in the summer.

Furthermore, we ask the question: why do we need the watch? Should it primarily look attractive or go completely unnoticed? How important is its accuracy to us? What possibilities does it offer in terms of complications, the type of winding, and the material? We decided to look for a watch that could handle our everyday life without problems and, accordingly, could easily be taken from the office to the gym, or on a walk with the dog through the forest, as well as on a trip to the golf course. Being outside a lot is nice, but for some watches, this can be a real problem. This is particularly the case if you love watches, but also understand them as practical tools.

Since we don't see the point of having to take a watch off and put it in our jacket pocket before a downpour, we're looking for a relatively sturdy and, naturally, very precise wristwatch.




The candidates
---
In total, we have submitted a total of ten different watches from six different manufacturers from our store into consideration for this comparison. All of them has been carefully selected according to our previous criteria and each one of these watches has something special in its very own way. Even if this means that we have unfortunately not included gorgeous and truly stunning models like the Longines Master Collection (ref. L2.673.4.78.3) in our comparison due to its lack of suitability for everyday use. But without further ado, let's take a look at our picks in a little more detail!



A strong start from Omega with the Seamaster series
You might not think it possible, but if you look closely, the luxury watch company Omega has quite a lot to offer. And that for relatively little money! In fact, two models from this manufacturer made it onto our shortlist: the Seamaster 300 M (ref. 2561.80.00) and the Seamaster Aqua Terra 150 M (ref. 2517.80.00).

The Seamaster 300 M brings an absolute classic into the running, featuring a striking dial and aluminum bezel in a blue, unmistakable design and date window at 3 o'clock. This 36 mm model has developed a fashionable patina over the years that exudes it that special, vintage charm.

On the other hand, the Aqua Terra captivates with its timeless, sporty elegance and never seems to be truly out of place. Even with half the water resistance of the Seamaster 300 M, it's still quite suitable for everyday use and, just like the 300 M, offers the precision you would expect from an Omega thanks to a durable quartz movement.



OMEGA SEAMASTER 300 M 2531.80.00
TAG Heuer presents the Carrera and Aquaracer
TAG Heuer doesn't stray far from Omega. And TAG Heuer makes strong competition with a diving watch for the title of the best wristwatch for up to €3,000! With the Aquaracer Professional 300 (ref. WBP201B.BA0632), TAG Heuer presents a tough competitor for the preceding Omegas. As a second model, TAG Heuer offers the chronograph Carrera Cal. 16 bearing reference number CV2010.BA0786 – a true motorsports icon.

The Aquaracer is a 43 mm diver's watch with a blue dial, blue ceramic bezel, and a robust automatic movement including a date window at 6 o'clock. The latter feature, by the way, reveals that this is the latest model from the collection, as the earlier references featured a date window at 3 o'clock.

The Carrera, on the other hand, is a serious chronograph with in-house manufacture caliber with an automatic winding and dynamic appearance. With a black dial, black bezel, a water resistance of 50 meters, a see-through case back, and a window for the date and day of the week at the 3 o'clock position, the Carrera Calibre 16 has a lot to offer.



TAG HEUER AQUARACER PROFESSIONAL 300 und TAG HEUER CARRERA WBP201B.BA0632 und CV2010.BA0786
Breitling follows suit... Does it have enough to reach the top?
We have Omega and we have TAG Heuer... Who's still missing? Exactly, Breitling! A cornerstone of the luxury watch industry, Breitling has certainly earned its place. The Colt Automatic and Colt Automatic GMT models we've selected both come from the Colt collection, which is no drawback.

The first Breitling is the Colt Automatic (ref. A17388101B1A1). With 44 mm stainless steel case, this model embodies typical massive design of a Breitling, but it's from the latest lineup of the Colt, and it shines with modern directness and distinguished understatement. With its black dial, a date window at 3 o'clock, a water resistance of up to 200 meters, and a chronometer-certified automatic movement, the ref. A17388101B1A1 is impressive, at least on paper.

The Colt Automatic GMT (ref. A32350) matches this previous standard effortlessly and even one ups the competition with the additional GMT function. Featuring a leather strap and a stainless steel case measuring just 40.5 mm, it's a somewhat more restrained and even outdoes the other Colt in terms of water resistance by a whopping 300 meters! Again, the chronometer-certified automatic movement powers a date window at 3 o'clock. The price of this model is also an interesting quality – but more on that later...



Tough competition from Schaffhausen – a classic by IWC
Boasting a big mouth with a lot behind what it has to say, the watch brand IWC attracted attention in the 2000s primarily through an extremely provocative advertising campaign. Nevertheless, we want to take a closer look at two chronographs from the Schaffhausen-based fine watchmaker and namely at both the more straightforward Pilots Chronograph and flashier GST Chronograph!

The IWC Pilots Chronograph (ref. IW3741) comes available as a 36 mm quartz watch with a robust stainless steel case and comfortable leather strap. A black dial in a B-Uhr design displays a small seconds at 6 o'clock, the other chronograph totalizers are positioned at 3 and 9 o'clock, and a date window can be found between 4 and 5 o'clock. With 50 meters of water resistance, this watch isn't really appropriate for diving or swimming, but does offer enough protection from the elements for everyday wear.

As an alternative to that rather understated chronograph, IWC also delivers the IWC GST Chronograph (ref. IW370713). This is a nearly 40 mm stainless steel watch with a white dial equipped with gold hands and indices featuring chronograph, date, and weekday complications. For all that, the GST does not appear obtrusive or garish at all. Thanks to its sporty contours, this watch only stands out in a positive way. That said, it's only water resistant up to 30 meters. But is that a disadvantage? We might just take our chances!



IWC GST CHRONOGRAPH IW370713
Alone at the top with Tudor?
Tudor comes to the table as another outstanding manufacturer. A true icon in the luxury watch segment, Tudor has long since ceased to be an insider tip and is beginning to secure its place in the spotlight of haute horlogerie. With excellent diving watches and sporty chronographs, the Rolex subsidiary has long been an established manufacturer and naturally is also represented here in our picks.

More specifically, our selection falls on the Tudor Heritage Black Bay (ref. 79230N) diver's watch. The Heritage Black Bay adds stylish, vintage charm to the manufacturer's most popular collection and doesn't pull any punches. With a chronometer-certified automatic movement, this 40 mm stainless steel watch is water-resistant up to 200 meters and underlines its existence as a functional tool watch with a unidirectional rotating diver's bezel. Its black dial including gold hands and indices provides for its retro flair. Finally, a comfortable and versatile fabric strap AND leather strap with folding clasp round out this Heritage Black Bay.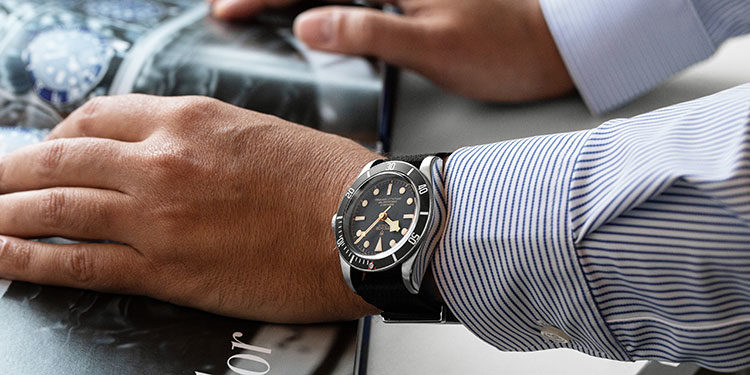 TUDOR HERITAGE BLACK BAY 79230N
The underdog of the group: Can Maurice Lacroix take this title with the Aikon?
70s design is experiencing a comeback, and Genta's contours – or rather, references to them – can be found on countless wrists. We enjoy integrated bracelets and blue dials as well, which is why we've decided to take a closer look at one of Maurice Lacroix's most popular models – the Aikon.

The manufacturer enters a veritable classic into the running for the best luxury watch for under €3,000 with the Aikon Automatic (ref. AI6008-SS00F-430-C). The striking design of this 42 mm stainless steel watch just screams the 70s and actually belies what an excellent watch the Aikon is. Featuring 100 meters of water resistance, an automatic movement, a date window, an additional rubber strap, and a see-through case back, this timepiece meets all of our demands... But is that enough to win first place?




The advantages and disadvantages of quartz and automatic movements
---
Just a quick reminder: automatic watches are self-winding mechanical calibers, and quartz watches are battery-powered ones. Typically, automatic watches are considered to be more valuable than quartz watches, but both types of movements have their advantages and disadvantages!

Automatic watches are most impressive because of the sophisticated mechanical craftsmanship behind the ticking of the hand. The advantage here: aside from the associated fascination, you also never need to buy batteries again. If you put a self-winding wristwatch on your wrist, you can theoretically forget about it from then on thanks to the everyday movement of your hand, which continually keeps the watch wound.

Disadvantage: automatic windings are more intensive in terms of maintenance. If repair is necessary, it is significantly more expensive and, unless the movement is chronometer-certified, it may well become quite inaccurate. Furthermore, watches with automatic movements, especially in the luxury segment, are usually significantly more expensive than luxury watches with other types of calibers.

Quartz watches, on the other hand, lack the mechanical drive of an automatic caliber and are therefore often belittled by watch enthusiasts and "watch snobs" as "soulless" due to their nature. But why? It's true, an automatic watch is impressive for not only by the logo on the dial, but the savoir faire inside, but if you don't care about that and are simply looking for a precise wristwatch, then there's nothing negative to say about a quartz movement.

After all, even without COSC certification, quartz watches are more precise than watches with mechanical calibers, easier to maintain, cheaper to buy, not as expensive in the event of repair, and less sensitive to shocks. It is simply the knowledge that it is "only" a quartz watch that speaks against the purchase of a watch with battery.



Why the one or another brand isn't on this list
Perhaps now you have asked yourself why one or the other manufacturer – and perhaps even your favorite brand – is not included in this comparison. We would like to point out two possible reasons for this at this point. First, despite all our attempts for objectivity, this list and our selections are, of course, still somewhat a subjective, and second, some manufacturers just don't offer options within the price range of up to €3,000.

As an example, you can find old (we purposely do not us the word "vintage") Rolex watches for less than €3,000 somewhere on the Internet. But these have comparatively small case diameters (mostly 34 mm or less, rarely 36 mm, and never more than that), almost never have automatic movements (except for some women's models), and are usually in terrible condition. So even though we are huge fans of Rolex... Any of the watches mentioned here is better than one of those, in our opinion.

We have made our selections quite carefully and tried to get the most out of our budget within our criteria. So please forgive us if your favorite is not included, but be sure to write to us at info@watchmaster.com and let us know which watch you think is the best choice for €3,000 and more importantly, why.




Our candidates in comparison
---
| Brand and model | Winding | Diameter | Material (case/bracelet) | Bezel | Water resistance | Date complication | Other special features | Feel on the wrist | Price |
| --- | --- | --- | --- | --- | --- | --- | --- | --- | --- |
| Omega Seamaster 300 M (Ref. 2561.80.00) | Quartz | 36 mm | Steel / steel | Aluminum / blue | 300 Meter | Yes, at 3 o'clock | - | Pleasant weight, harmonic size, overall very good | €2.900 |
| Omega Seamaster Aqua Terra 150 M (Ref. 2517.80.00) | Quartz | 39 mm | Steel / steel | Steel | 150 Meter | Yes, at 3 o'clock | - | Pleasant weight, thin, somewhat boring | €2.740 |
| TAG Heuer Carrera Cal. 16 (Ref. CV2010.BA0786) | Automatic | 41 mm | Steel / steel | Aluminum / black | 50 Meter | Yes, at 3 o'clock | Chronograph, weekday display, transparent case back | Surprisingly heavy, yet comfortably thick, somewhat "flashy", but still good | €2.000 |
| TAG Heuer Aquaracer Prof. 300 (Ref. WBP201B.BA0632) | Automatic | 43 mm | Steel / steel | Ceramic / blue | 300 Meter | Yes, at 6 o'clock | - | Lighter than a Carrera, very present, a little large | €2.340 |
| Breitling Colt Automatic (Ref. A17388101B1A1) | Automatic | 44 mm | Steel / steel | Steel | 200 Meter | Yes, at 3 o'clock | Chronometer | Excellent weight, not too overwhelming, surprisingly understated, very comfortable on the wrist | €2.550 |
| Breitling Colt Automatic GMT (Ref. A32350) | Automatic | 40.5 mm | Steel / leather | Steel | 500 Meter | Yes, at 3 o'clock | GMT Function, Chronometer | Pleasant weight, feels smaller than it is, understated yet good | €2.080 |
| IWC Pilots Chronograph (Ref. IW3741) | Quartz | 36 mm | Steel / leather | Steel | 50 Meter | Yes, between 4 & 5 o'clock | Chronograph | Very light, feels a little small, very understated, overall feeling is somehow "wrong" | €2.300 |
| IWC GST Chronograph (Ref. IW370713) | Automatic | 39,7 mm | Steel / steel | Steel | 30 Meter | Yes, at 3 o'clock | Chronograph, weekday display | OK weight, feels somewhat large, the mildly "flashy" bracelet makes it appear larger | €2.990 |
| Tudor Heritage Black Bay (Ref. 79230N) | Automatic | 40 mm | Steel / textile/td> | Aluminum / black | 200 Meter | - | Chronometer | Very pleasant weight, feels pretty large on the wrist, good feeling | €2.960 |
| Maurice Lacroix Aikon Automatic (Ref. AI6008-SS00F-430-C) | Automatic | 42 mm | Steel / steel | Steel | 200 Meter | Yes, at 3 o'clock | - | Pleasant weight, overall feeling is somehow "wrong" | €1,700 |
10 small bracelets…
---
Now that we've covered all the candidates in our test in detail, let's tidy up the field from the back and list all the watches that didn't make it to the finals in our selection, starting with the IWC's.

Both IWC models were less convincing to us as a jury (even though the Pilots Chronograph struck a chord with one of our coworkers, who immediately asked for an offer from our sales staff). Not only did we ultimately miss the ability of the watches to accommodate everyday use, which is ensured by the water resistance, but versatile design from the watches as well. The Chronograph was too much of a pilot's watch and the GST was a bit too flashy. Nevertheless, both are unquestionably good watches.

Both models from TAG Heuer were also unfortunately eliminated from our selection. Although the Carrera surprised us in the most positive way, its design was actually a bit too sporty for everyday wear and there was just a bit too much going on on the dial, as well – chronograph or not. We liked the Aquaracer as one of the most up-to-date diving watches, but its somewhat large feel on our wrists resulted in its elimination.

After these four, we've now arrived at the last three models of our selection that were eliminated in this preliminary round. It is with a heavy heart that we have to part with the Breitling Colt GMT at this point. We can finally now reveal that, thanks to all its specifications on paper, this model was actually our secret favorite, but due to its somewhat small feel and the overall lack of "spark", this model was eliminated.

The lack of that "spark" is also why our next two watches were eliminated. Both the Omega Seamaster Aqua Terra 150 and the Maurice Lacroix Aikon lacked that feeling that should ultimately make you buy a watch. Honestly, we found the Omega to be a bit too elegant and (we're sorry to say) rather boring on the wrist.




Maurice Lacroix Aikon Automatic AI6008 SS00F


The Aikon, on the other hand, already had a difficult position from the start. Its visual similarity to the Audemars Piguet Royal Oak gives the Aikon, which is really good in itself, the unpleasant touch of an homage or copy. And as sorry as we are about that, we couldn't completely free ourselves from that thought and let the Aikon go due to its visual resemblance.



And then there were only three…
Our three finalists are interestingly all diving watches: the Omega Seamaster 300 M (ref. 2561.80.00), the Breitling Colt Automatic (ref. A17388101B1A1), and the Tudor Heritage Black Bay (ref. 79230N) – and all of them convinced us in their own way. That's why it was all the more difficult to decide which watch should prevail over the other two. Surprisingly enough, we have to part ways with the Tudor at this point. The truly excellent Tudor was eliminated in this case, however, because it's "only" available for under €3,000 with a nylon and a leather strap and not on a metal bracelet. Since this would exceed the price range by no less than €80, this Tudor unfortunately has to be eliminated. However, if you are willing to pay this extra price, then we highly recommend the Tudor Heritage Black Bay.




BREITLING COLT AUTOMATIC A17388101B1A1


That leaves two watches in the competition for the title of best luxury watch for a maximum price of €3,000!




And the winner is…
---
Both watches, the Breitling and the Omega are convincing in their own way. Despite their different sizes, both surprised us with their enormously comfortable wear, subtle prestige, and superb build quality.

The Breitling comes with a 44 mm brushed stainless steel case and bracelet, black dial with date window at 3 o'clock, and is powered by a chronometer-certified automatic movement.

Equally beguiling, the Omega is impressive with its 36 mm, blue aluminum bezel, polished as well as brushed stainless steel bracelet and case, accurate quartz movement, and patina that has developed over the years.

It might be possible to make up your mind about which of the two watches you would prefer, but due to the fact that we, just like you, are looking for THE best watch for €3,000. But, obviously, we don't want to let you go without a winner. What do you think? Which watch will win the race?

The Omega – plain and simple. Thanks to its differently polished case and general appearance, it looks just as sporty, yet simultaneously more elegant than the Breitling. While Bond (since Brosnan's portrayal of the role) regularly demonstrates how versatile the Omega Seamaster is and how well it can be worn with a suit, we find it very difficult to imagine the Breitling with evening wear as a result of its brushed steel.

In this respect, the Omega Seamaster wins this contest! It was a close call, but still: the Omega not only meets all our criteria, but, with a bit of luck, can also be found for sale one size larger (i.e. with a 41 mm case diameter) for under €3,000.

Which watch would you have chosen? Do you think we missed one? Write to us and let us know!