Buy and finance IWC Schaffhausen watches online
---
Financing IWC wristwatches – secure online purchase
Our online shop offers a wide range of products: Find
pre-owned IWC Schaffhausen watches
or vintage models. All watches that you can buy online go through an authenticity and refurbishment process. Our master watchmakers check all timepieces and give them a certificate of authenticity so that you can be sure to wear an
original IWC watch
on your wrist.
You have already made your decision and would like to get your timepiece directly delivered to your home? Then you should take a look at Watchmaster's financing options. If you choose to 
finance your IWC
, you can plan the investment long-term and pay in small monthly instalments. Find out more about available payment options on our website and purchase your pre-owned IWC watch at a great price.
IWC PILOTS WATCH CHRONOGRAPH LE PETIT PRINCE IW377714
The 5 most popular IWC series
---
The
International Watch Company
has created some of the most famous style icons among luxury watches that have been considered absolute classics for decades. IWC´s watchmakers are among the best in their field, mastering even the most complex complications such as the tourbillon. The company gained world fame for the outstanding quality, high utility value and functional design of its timepieces.
The legendary IWC Ingenieur was designed by the famous Swiss Gérald Genta and combines a variety of styles to a timeless modern design. All specimens are equipped with a soft-iron cage, which protects the movement from the strong magnetic fields of industrial machines or research devices.


The Big Pilot's was designed in the 30s for air forces that needed a large and easy-to-read wristwatch. Although today's remakes of this legendary watch are smaller than the 55 mm original, they are still popular for their masculine and distinctive look.


The successful Portuguese series was created in the 1930s when two Portuguese merchants commissioned IWC to make wristwatches as accurate as marine chronometers. At that time, only pocket watches could boast such precision, and so the Swiss company simply built a pocket movement into a voluminous, but elegant wristwatch case. Today, variants are available with tourbillons, minute repetitions or the other major complications of watchmaking, which makes the Portuguese series very popular among connoisseurs.


The Il Destriero Scafusia ("The battle horse of Schaffhausen") appeared in 1993 for the 125th anniversary of IWC and combines 22 highly complex functions in itself. It was limited to 125 pieces and sold out faster than any IWC watch before. Such craftsmanship is of course highly exclusive and can never be produced in major series, which is why the Destriero Scafusia is traded at a stately six-figure price.


The Aquatimer is a diver watch series that was launched in the 1960s due to the increasing popularity of such models. Over the years, the look of the model has changed several times, but always remained true to its original design.
Good reasons to buy an IWC
---
Timeless and elegant design
Handmade in Schaffhausen
Fine craftsmanship: Filigree details such as indices are set by hand
IWC SPITFIRE CHRONOGRAPH IW387803
Models and prices of IWC wristwatches
---
How much does an IWC watch cost?
IWC Portuguese Chronograph (Ref. IW390403)
Price: €11,900
Material: Stainless steel
Main features: Silver-coloured case & dial, chronograph
IWC Pilots Chronograph (Ref. IW377709)
Price: €5,600
Material: Stainless steel
Main features: Silver-coloured bezel & dial, leather strap, chronograph
IWC Portofino Automatic (Ref. IW356506)
Price: €5,300
Material: Stainless steel
Main features: Silver-coloured bezel, black dial
IWC Ingenieur (Ref. IW378405)
Price: €5,940
Material: Stainless steel
Main features: Silver-coloured bezel, white dial, tachymeter
IWC Aquatimer (Ref. IW371928)
Price: €3,040
Material: Stainless steel
Main features: Silver-coloured bezel, black dial, chronograph
IWC Da Vinci Perpetual Calendar (Ref. IW376204)
Price: €15,040
Material: Stainless steel
Main features: Silver-coloured bezel & dial, Dial pattern guilloche, Perpetual calendar
IWC watches as an investment
---
Buying an IWC watch
is an investment that pays off in the future: for example, if you look at the popular IWC Pilot Watch Chronograph, your used resale value has increased by 20 % since 1996 compared to the suggested retail price. With good care used models from IWC often experience a constant increase in price. Therefore, financing an IWC watch may well be worth considering.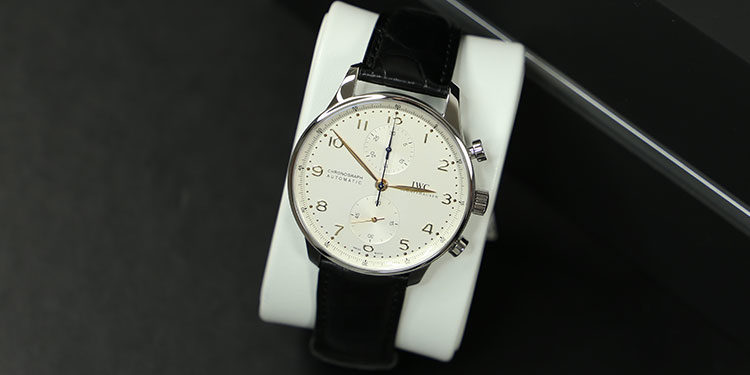 IWC PORTUGUESE CHRONOGRAPH IW371445
The history of IWC Schaffhausen
---
Craftsmanship for 140 years
IWC Schaffhausen
has always been a name that is highly esteemed among connoisseurs and aficionados of watchmaking. The International Watch Company was founded in 1868 by Florentine Ariosto Jones. The native American was previously head of the then leading watch manufacturer in America, the E. Howard Watch & Clock Company. Jones plan was to use the favourable working conditions in Schaffhausen and to build watches, especially for the American market. But the early years were more turbulent than expected: the high US import duties caused difficulties. He guessed, however, that he was failing in his plans to establish a modern manufactory with central production. In the coming years, several leadership changes and another bankruptcy followed at the Swiss watch company IWC.
With the purchase of the company in 1880 by Johannes Rauschenbach it went uphill again for IWC. After his death, his son took over the management. The company remained family-owned for almost 100 years and the businesses flourished again. Tradition and quality combined with innovation became the guiding theme that has held to this day. IWC produced pocket watches of special precision, which are still coveted collector's items in the used watch market today.
IWC has developed some innovative models over the years: in 1885, the company launched the
"Pallweber"
, the
first pocket watch with a digital display
. Three years later, the
first anti-magnetic movement
 followed. From there the model
Ingenieur
was developed and introduced in the year 1955. The magnetic field shielded movement and its water-resistance made the model popular among technicians, scientists and doctors. In 1936, IWC launched a model specially developed for pilots, the
Mark IX
. In 1948, the
Mark 11
followed as a model for the British Royal Air Force and Commonwealth forces. Even among civilian pilots, the watch quickly gained popularity.
But not only in the field of functional watches but also in Haute Horlogerie, the company has achieved impressive results. When the Swiss watch industry was threatened by the rise of low-priced quartz watches in the 1970s, a legendary watchmaker turned the company's attention to sophisticated mechanics: Günter Blümlein, who later also participated in the revival of A. Lange & Söhne participated. Under his leadership in 1985, the well-known model
Da Vinci
appeared with a revolutionary development of the eternal calendar, which displays the date for 500 years without manual correction. In 1990, IWC developed the model
Grand Complication
- a wristwatch that included the most complex movement of its time with its 659 parts. A model that inspired then and now!
IWC PORTUGUESE CHRONOGRAPH IW390404
IWC's success story
IWC's goal is to offer its customers a unique range of models for a wide variety of watch types. From everyday sturdy watches for everyday wear and sports watches to the finest and most complex "Haute Horlogerie" creations, IWC produces exciting models every year that draw their inspiration from the achievements of the company's history. Especially IWC models for pilots and sailors were large and distinctive for functional reasons. This resulted in a masculine image, which IWC additionally emphasized with advertising campaigns.
At the same time, it remained faithful to its timelessly elegant style, making the company popular with a demanding audience worldwide. The cooperation with the founder of
Porsche Design
, Ferdinand A. Porsche, shaped the company as well: For IWC, he designed watches in a sporty, understated style, which enjoy great popularity worldwide and consolidated the brand's sporting image. Among a wide audience and countless celebrities, IWC is particularly popular for its large and solid men's watches from the collections Pilots and Ingenieur.
Nevertheless, you should not forget that the company is also one of the leading representatives of "Haute Horlogerie" and also masters the most complex complications such as the "Perpetual Calendar" or the Tourbillon. Above all, the collections Portuguese and Da Vinci are appreciated by watch enthusiasts for masterful movements of the highest technical complexity. Many models such as the Ingenieur and Da Vinci are also available as discreet and elegant ladies' watches, which also enjoy great popularity. IWC watches are therefore a mixture of elegant art and technical skill.
In 2008, IWC started its cooperation with the German national football team and accompanied the players of the national team to the World Cup in South Africa and the European Championship in Ukraine and Poland. The company has a proud audience of well-known athletes, actors and role models: tennis professional Boris Becker, footballer Günther Netzer, Formula 1 legends Nico Rosberg and Lewis Hamilton, and several actors such as Kevin Spacey, Channing Tatum and Bradley Cooper are just a few famous carriers of this fine Swiss watches.
The philosophy of the company
As the company's motto
"Probus Scafusia"
("Quality from Schaffhausen"), established in 1903, shows, the company's name is a promise of top quality, which has been taken uncompromisingly to the fore. IWC does not want to produce any products for the mass market and relies on exclusive top quality and still holds a premium position among the Swiss luxury watch manufacturers.
Famous IWC owners
---
The popular watch brand has been able to win over many superstars as brand ambassadors: Actors such as Naomi Harris, Lucas Gregorowicz and Taylor Schilling show themselves wearing IWC watches, as do sports legends such as Nico Rosberg, Jan Frodeno and Lewis Hamilton. Supermodels such as Karolina Kurkova and Adriana Lima are also avowed IWC fans. Only recently, the company was able to win over a new brand ambassador: Film star Bradley Cooper has been showing himself with various models of the luxury brand since January 2018.
IWC's fine wristwatches have even made it onto the big screen. In the thriller "Fracture" starring Anthony Hopkins, co-star Ryan Gosling wears a
Portuguese Chronograph
with gold numerals and a black strap. Harrison Ford fights against time in "Firewall", wearing an
IWC Mark XV
on his wrist as he tries to save his kidnapped family.