Buy pre-owned Rolex watches easily and quickly online at Watchmaster
---
Second hand Rolex timepieces for sale
Our Watchmaster online shop offers a large selection of new and certified
pre-owned Rolex watches
for sale in excellent condition along with beautiful vintage luxury timepieces. We check and certify all watches for you. Thanks to the certificate of authenticity, you can be sure that your pre-owned watch is an
original Rolex
timepiece. Regardless of whether you are looking for women's or men's
Rolex watch
models - With Watchmaster you can rest assured. Also thanks to our refurbishment process, even
used Rolex watches
look as good as
new
. Made up your mind and impatient to get you favorite Rolex watch delivered? Pay quickly and easily by credit card, Paypal or bank transfer.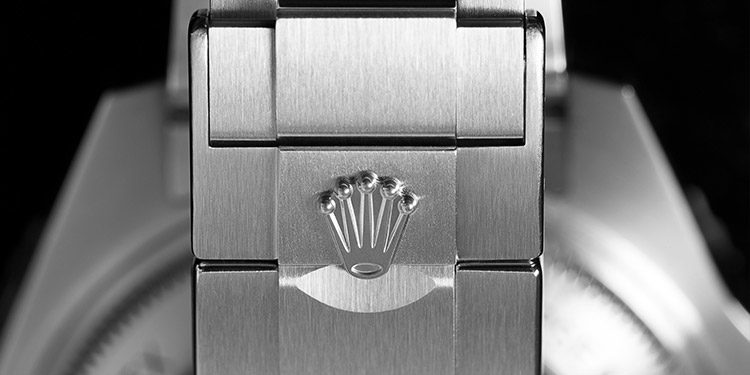 Is it possible to finance a Rolex watch online?
Absolutely.
Financing a Rolex
watch online also means investing. Over the years, Rolex watches have proven to be a good and
solid investment
, which is why financing a
pre-owned Rolex
online can be considered as saving – but it is much more fun, actually. If you'd like to hold on to your money in your bank account for longer, Watchmaster offers a range of
interest-free financing
options to help you to finance your
Rolex watch
. Choose an
individual monthly rate
and soon you will be looking at your
new Rolex
. With an
installment
you can plan an investment on a long-term basis and purchase a Rolex watch through
partial payments
.
Have a look at our website to find out which option suits you best and buy your Rolex watch today. Watchmaster is the safe way to
buy or finance a Rolex watch at a low price online
. 
Are you interested in selling your pre-owned Rolex watch?
---
As Europe's largest pre-owned luxury watch retailer, Watchmaster is your trusted partner in
selling Rolex watches online
. If you're interested in trading-in or selling your pre-owned timepiece, our expert team at Watchmaster can help you do so fast and securely. Get in touch now to receive a
free, non-binding quote
for your Rolex watch. Simply submit your query using the form, or contact our customer service for further information. We look forward to hearing from you!
The 5 most popular models of all time
---
Since their release, many Rolex watch models have become icons that are admired by fans and collectors as well as watchmakers. The timepieces are known for their distinctive design: The style of Rolex watches is elegant and timeless.Many models have been visually altered only slightly over the last 50 years and continue to enjoy growing popularity. At the same time, Rolex is known for its consistent quality and reliability. Some of the most popular models are now known far beyond connoisseur circles and are regarded as classics. It is therefore worth keeping your eyes open for
pre-owned and vintage Rolex
watches when making a purchase.
Best reasons to buy a Rolex
---
Handcrafted movements with precise accuracy
Likely long-term increase in value – rare and well-preserved Rolex models increase greatly in value
A Rolex watch is an absolute classic among mechanical watches
Highest recognition value – the crown stands for itself
Perfect balance in the styling – Rolex watches fit the suit, as well as the sport being played
Even pre-owned Rolex watches look as good as new
Models and Prices of Rolex watches
---
Rolex Submariner / 116610LN
Price: 8,900 € (2014)
Material: Stainless Steel, Cerachrom
Key Features: Black Bezel, Black Dial
Rolex Datejust / 16013
Price: 4,040 € (1983)
Material: Yellow Gold, Stainless Steel
Key Features: Bi-color Jubilee Bracelet, bezel in Gold, black dial, automatic movement
Rolex GMT Master II / 16710
Price: 9,440 € (2006)
Material: Stainless Steel
Key Features: black bezel and dial, automatic movement, 40 mm case size
Rolex Lady Oyster Perpetual / 176200
Price: 2,760 € (2008)
Material: Stainless Steel
Key Features: Stick indexes with arabic Numbering, white dial
Rolex Daytona / 116520
Price: 18,300 € (2014)
Material: Stainless Steel
Key Features: Steel bezel, white dial, caliber 4130, water resistant to 100 m
Rolex Milgauss / 116400GV
Price: 7,290 € (2016)
Material: Stainless Steel
Key feautures: black dial, silver bezel, caliber 3131, water resistant to 100m
A good investment: Authentic pre-owned and vintage timepieces
---
Rolex has stood for quality and luxury for decades. This fact, without question, benefits the potential for a profitable investment. Vintage Rolex watches increase almost without exception in value, special models gain value sometimes several hundred percent. In particular, the Rolex Submariner models COMEX and "Red Sub" are to be mentioned. A Rolex Red-Sub watch has already risen to a good € 16,000 in value and the Rolex COMEX diving watches reach, depending on the condition, top prices between € 40,000 to a whopping € 100,000. But also regular models of the Submariner from 1993 and 2017 increased between 2000 € to over € 7,000 in value. With a purchase on watchmaster.com you are on the safe side, as all watches are certified from our in house service center.
Price development based on a Submariner LN – No Date
Nicknames of Rolex watches
---
For beginners it can lead to confusion, but
Rolex watch lovers
will know immediately which watch is
hidden behind nicknames
such as "Hulk" or "Pepsi". Rolex watches get their nicknames for different reasons and often only over time. Some of these affectionate names are due to the color of the watch. "Coke" and "Pepsi" are Rolex GMT Master models whose bezel colors match those of well-known companies: the bezel of the
"Pepsi"
 comes in blue-red, the
"Coke"
in red-black. Less obvious is perhaps the origin of the epithet
"Batman"
 for Rolex GMT-Master II BLNR. Its bezel is black and blue, the latest version of the Batman model was presented in 2019 at Baselworld, it comes with a Jubilee bracelet and the
reference 126710
.
Similar origin in the comic world have the epithets "Hulk" and "Kermit". However, they refer to Rolex Submariner models. The
"Kermit"
is an anniversary model of the Submariner 16610 with black dial and striking green bezel, which is marked in the reference with the ending LV for "lunette verte" or "green bezel". His successor model with green bezel and green dial is referred to in expert circles as
"Hulk"
and has the reference 116610LV .
The Rolex
Daytona "Panda" (Ref 116523)
comes with a white dial with black sub-dials. Also on the Daytona "Ice Blue" the dial is decisive for the name: the ice blue dial of the platinum watch is surrounded by a maroon colored bezel. The same applies to the Oyster Perpetual "Azzuro Blue" (ref 177200), whose bright blue dial attracts attention. Other watches got their nicknames because of well-known personalities who wore them regularly on the wrist. The "Paul Newman" Daytona is the best example of this. The actor with the blue eyes helped the Daytona series to fame, as "Paul Newman" Daytonas are only watches with the
reference 6239 Exotic Dial
.